What is a false 9? Basic concepts explained
A guide to the role and function of a false 9, by MrColabella
Introduction
With the demo released and with plenty of clips on YouTube on the game formations, some of you may be wondering what is a false 9? In this article I will explain the basics behind the concept of playing in a false 9 system. It's relatively easy to understand, but slightly harder to impliment. Before I can get started, there are a few definitions you will need to know:
Number 9
: The original number 9 is the word for a striker whose main objective is to score goals. There are plenty of words to describe goalscorers, but the best way to describe a traditional number 9 is a player who is seen as a 'poacher'. These are your typical players who are good in the air, quick with their feet and base their movement off the last defender. The best example of a traditional number 9 in the modern game is probably Falcao for Atletico Madrid.
The False 9
: A player who plays in the traditional base position of a number 9, but doesn't have the qualities of a number 9. This player will excel in ball retention and passing. Instead of driving towards goal, they drop deep into midfield. The false 9 system can only be used in a formation with a lone striker, otherwise he is just playing off the main striker as a number 10. The first example of a false 9 would probably be Totti at Roma. Fabregas played this role for Spain in Euro 2012, but the best example of a false 9 would be Lionel Messi for Barcelona.
Channels
: The spaces between CBs and RB/LBs.
What do I need to make the false 9 system work?
You need two things really:
1. A system
that features a lone stiker (the false 9) and two wingers. Basically a wide front 3.
2. Pacey wingers. While I'm not big on pace abuse, your wingers should be of a decent level of pace. Enough to outrun the fullback that he is marked by.
For this example I will use a basic 433 model. The red team is the attacking team (your team) and the blue team is the defending team (opponent's team). The player circled in yellow will be our false 9.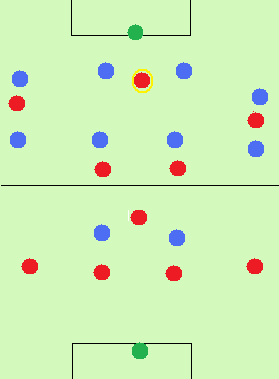 I mentioned in my first point that you need a wide front 3. This is pretty crucial. False 9s generally appear in possession based teams and it is the job of the two wingers to keep the pitch as wide as possible. This takes the opposition full backs out of the equation and prevents them from tucking in. Like so: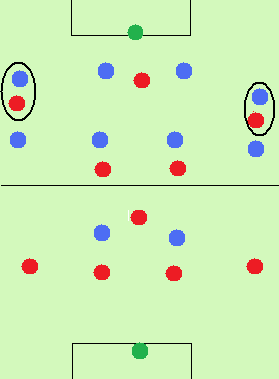 This gives you a lot more space in the centre of pitch. Which is where our next point flows onto nicely.
The space between the lines
With the wingers spreading wide, it would be easy to assume that the false 9 has a free role and can roam about. The job of the false 9 is simple: To drag the opposition CBs out of position. Easy enough right?
So how to do this? By dropping deep you can help keep possession in midfield. But it also means the opponents CBs are reluctant to come and close you down. So you can enjoy quite a bit of space:
Just by dropping deep there is so much space in between the opponent's midfield and defence: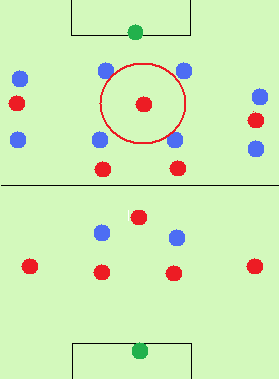 Obviously it is stupid to give players this much time and space in this zone, so expect your false 9 to be closed down quickly. But this is the idea. The main reason why Messi is regarded as the best player in the world is because of the how he utilises the space in this zone. It allows him to get a run and chance to dribble past players.
Now obviously not everyone in the world is Messi and can dribble past players with ease so here is how you utilise the false 9, without having to be the Argentinian.
Space behind the lines
When the false 9 drops deep. The opponent then becomes a bit confused where the marking responsibilites lie. As shown: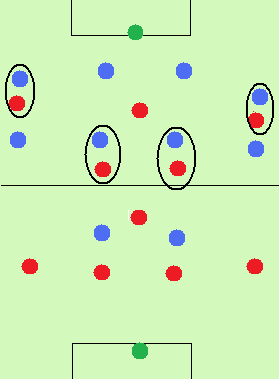 Everyone here is marking someone, except for the CBs. So do they come and deal with the false 9? It's a tricky decision because as I outlined earlier
the job of the false 9 is to drag the opposition CBs out of position.
The CBs don't push forward then the false 9 has mass amounts of space and his team can surge forward. Push forward and risk getting sliced open.
At the beginning of the article I posted a definition of the word 'channels'. This will become clear now. Let's say that one of the CBs pushs up to mark the false 9. Like so: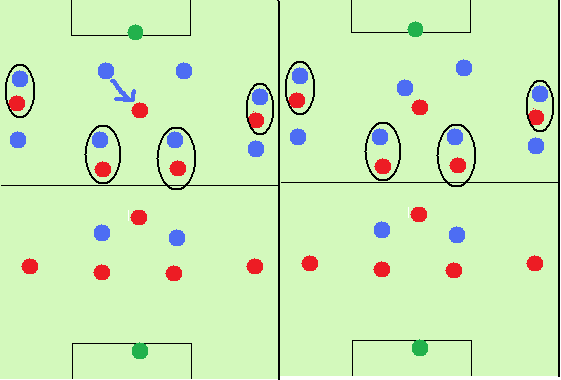 When the CB moves out of position he leaves a lot of space behind his starting position. I mentioned pacey wingers before as this is where they come in. They pull away from their fullbacks and exploit the space like so: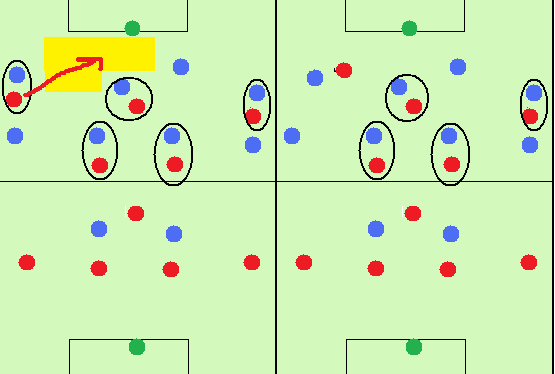 By driving towards goal with the wingers, all it takes is a through ball and you've got a one on one and a clear cut oppurtunity to score.
Closing comments
So there you have it, the explaination and function on how to use a false 9. Simple enough to understand, tricky to pull off, but when you do, it can work tremendously well. Some of my other guides which may help you out if you want to read further:
- If you are already running a 433 and thinking about a false 9, I've shown you how to attack, here's how to press and defend:
http://www.fifahub.c...from-the-front/
- A guide further explaining the benefits of space between the lines and defending against it:
http://www.fifahub.c...nding-with-442/
Thank you for reading. Comments/constructive criticism welcomed and 'a like' is always appreciated.